Pineo Designs
Rose Hawking was established to continue the tradition started by Doug Pineo of supplying falconers with falconry equipment designed to enhance your game hawking experience and the safety of your game hawks. We adhere strictly to the designs developed by Doug Pineo and the quality standards he demanded.  
Doug worked closely with us to ensure our vest, gloves, and swivels met the high standards falconers expect from a Pineo design.
About Us
Rose Hawking is a family business founded by Rob Rose and his daughter Arden Rose. 
Like Doug and Trish Pineo, we too are guided by seminal figures in environmental conservation, such as Aldo Leopold, Rachel Carson, Tom Cade, Wangari Maathai, and Yvon Chouinard. Rose Hawking will donate a minimum of 5% of all sales to efforts supporting conservation, and our traditions of hunting and fishing.
Rob Rose
I have been a falconer since 1975; I purchased my first Pineo hood with money earned from a newspaper route, and I've been an avid customer ever since. My falconry journey has been eclectic. I lived in Africa for nearly 30 years, flying Black Sparrowhawks in Kenya, Barbary Falcons in Egypt, and Peregrines, and hybrids in South Africa. I started an African-based research company, which became global, and worked in the Middle East selling falconry telemetry products. I had the good fortune to work for the Peregrine Fund in Boise for a couple of years and flew the best falcon I've ever had, a hacked Peale's Peregrine, and a sweet Taita-Barbary hybrid. I am currently back overseas in Central Asia, as my wife completes her final assignment as a US Diplomat; I am really enjoying flying an intermewed Red-Napped Shaheen but have my sights on a Calidus for the coming season. We plan to move back to our home in Colorado early next year and settle for the long-term.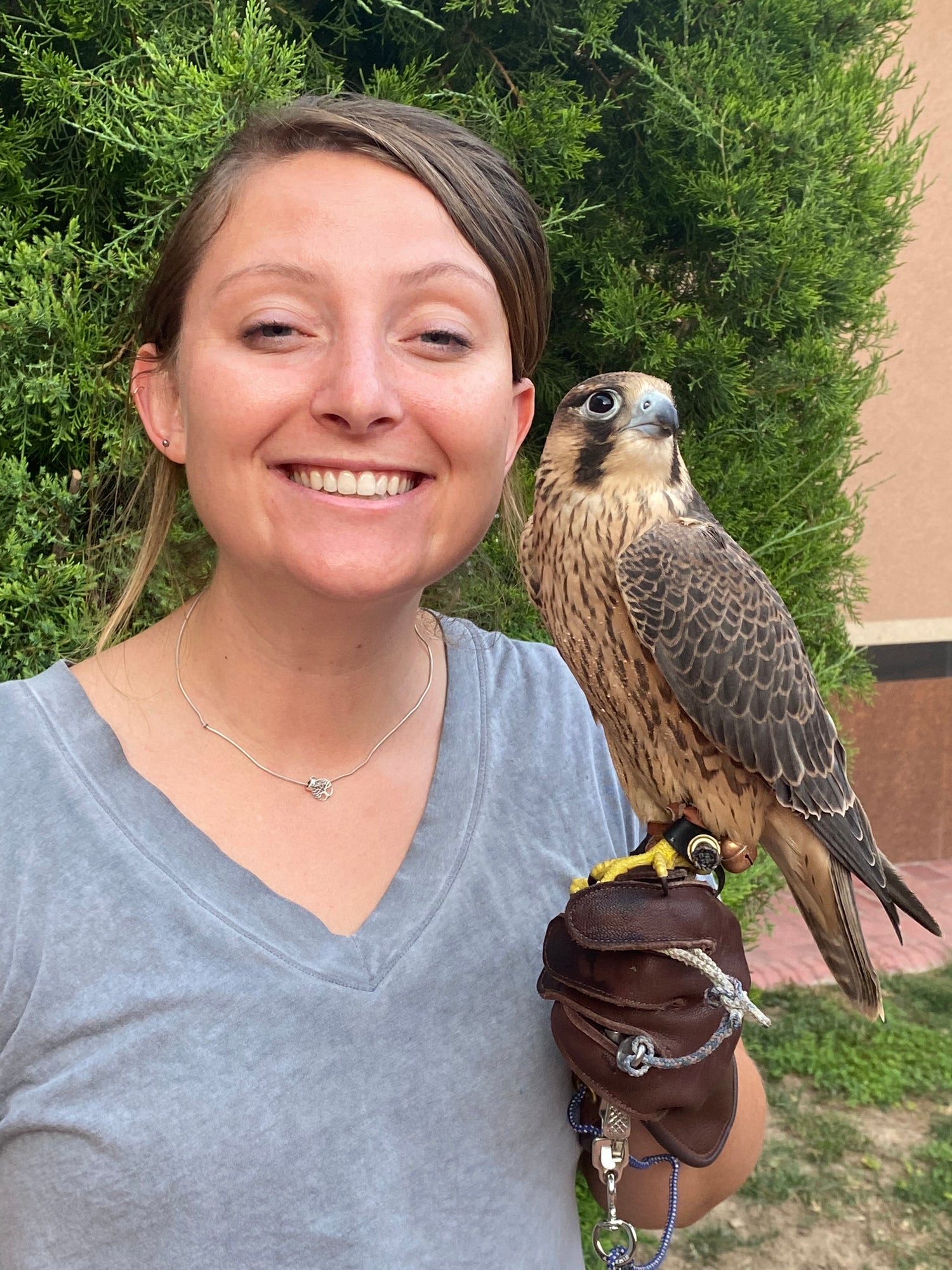 Arden Rose
I am an engineer, based in Colorado, but have taken a break to pursue an MBA with a focus on digital marketing. My parents were living in Kenya when I was born and I grew up in East Africa, Egypt and South Africa. I was 18 when I moved to America and I was a bit shocked that most kids my age preferred to stay home playing video games rather than rock climbing, hiking and camping. I have always been happiest outside and in wild places. Growing up around raptors and flying falcons with my dad has instilled in me a passion for the outdoors and hunting.  And when he asked me to join him in starting a business serving the falconry community – a business specialized in continuing Doug Pineo's designs – I said absolutely!  Being able to serve a community with a focus on raptors, falconry and our environment, makes me feel very lucky.